Best Electronics is supported by its audience. When you purchase through links on our site, as an Amazon Associate I earn from qualifying purchases.Learn more
Everyone loves microwaves for their versatility, convenience, and relatively low price-point. Best microwaves to buy today do so much more than just making pop corns, warming up leftovers, and heating frozen meals. Whichever food you try steaming with these microwaves, you will get the most delicious results. In this article, I will explore the three best microwaves to buy in 2020.
Around 96 percent of U.S. households own a microwave, and more than two-thirds of those households prefer to use counter top microwaves. These counter top microwaves do not necessarily need any particular installation type like the over-the-range microwaves and the in-built ones. They are also easy to shift from one location to the other. Even when your kitchen is small with limited space, these counter top microwaves are still perfect for a great compact option. Best microwaves to buy in 2020 are generally affordable, with its price value under $100.
Below are the top 3 best microwaves to buy in 2020, all a combination of the tested ones and those recommendations based on their top reviews and unique features.
Best Overall Counter top Microwave – Toshiba Microwave Oven
Toshiba microwave oven is 1.2 cubic feet long and has the most brilliant combination of price, quality size. The accessory has every necessary feature installed in it, i.e. a one-touch express button, presets for popcorn and veggies, and a child safety lock. You can also conveniently adjust its power level up to a maximum of 1,100 watts from one to ten. It, therefore, holds the ideal power output among a wide range of uses. Also, its high wattage enhances faster cooking with less time. It has a melt preset for chocolate, butter, and cheese that runs on a low power setting to prevent the microwave from getting too hot or burning.
Instead of a push-button, the microwave has a handlebar for opening the door, making it more ergonomic. It also features a mute button that turns off all alerts and beeps whenever the cooking time comes to an end. You do not need to guess if your food has reheated well as it has a smart sensor feature that measures the humidity in the food. It also adjusts the time for cooking and the power level automatically. It is available in either black stainless steel or stylish stainless-steel finishes.
 Pros: –
 It has a perfect combination of price, quality, useful features, and power level.
Cons: –
It doesn't make alerts whenever heated food is left in the microwave.
Best Value Counter top Microwave – Digital Hamilton Beach Microwave Oven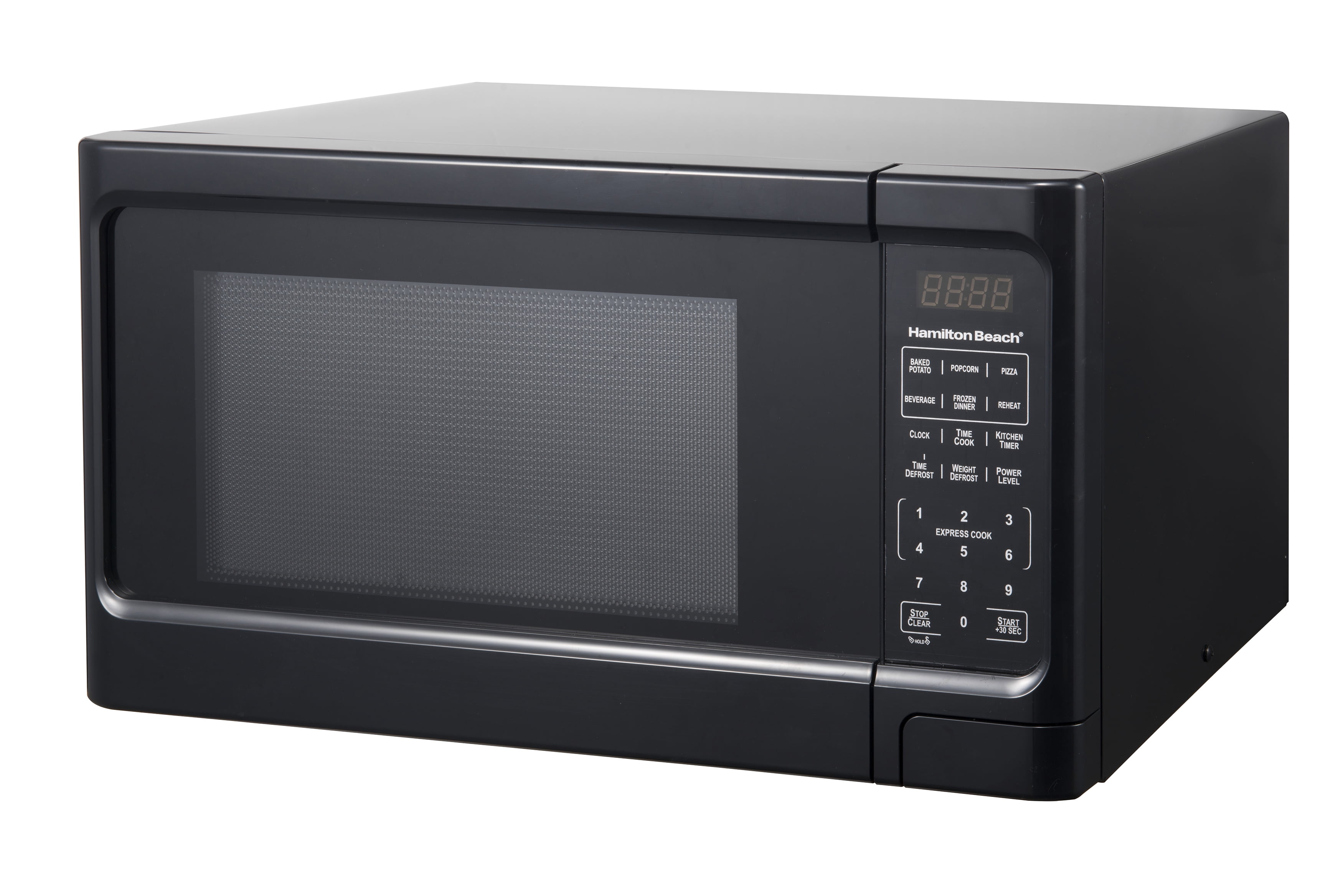 The price of a digital Hamilton Beach microwave may be low, but its performance is instrumental. It has a 1,000 watts power output, mostly available in models of a higher price point. The microwave comes with all critical features, including a child safety lock, an additional 30 seconds button, a one-touch express button, and a preset for veggies, pop corns, pizzas or beverages. Its kitchen timer works perfectly and simultaneously with the cooking cycle. You can also mount the microwave onto the wall if you desire, even though it doesn't have a venting system like the other microwaves.
Pros: –
It has an option of mounting it on the wall.
Cons: –
Its motor makes a loud, whooshing noise when heating food.
Best Large Capacity Counter top Microwave – GE Profile Microwave
The GE Profile microwave has a capacity of 2.2 cubic feet. It enhances an ideal easy-to-clean control panel with its large interior, making the microwave the most suitable model for prominent families. With this microwave, it is possible to heat an entire 9 by 13-inch casserole dish on its 16-inch turntable and still be left with a sizable spare space. 
The machine cooks food evenly without leaving any cold spots. It delivers perfectly steamed broccoli using its smart sensors, which easily adjust the cooking time after measuring the amount of steam the food releases. The model is also installed with an inverter fastens heating, making it quicker and even.
Pros: –
The microwave holds a large casserole
It heats food consistently and evenly
Cons: – It takes up a lot of counter space.
Features of the Best Microwave
There is a wide range of choices for counter top microwaves to choose from that can easily fit in your space and style, but the essential features to look out for are;
The turntables – They assist in rotating food, making sure that it heats evenly. Without one, you can quickly stop the cooking cycle midway from turning the plate around.
The add 30-second button – The button makes a huge difference when available, although it seems trivial. It conveniently enables you to quickly start or add some more cooking time without pressing a series of buttons.
Preset functions – Most of the presets are standard, especially for defrosting with bases of either weight or quantity. When in need of them, look out for the most convenient as not all are better, and they tend to be pricier.
The smart sensor – Adjusts the cooking time and power levels automatically by measuring the heat in the food. It figures out how long the food should take to heat.
Wattage – It assists in telling you the amount of power in every microwave. A 700 to 900 wattage is sufficient for reheating individual portions of food, defrosting small quantities of vegetables, or even making pop corns.
Size matters – The best microwave to buy should have enough space that can fit an 11-inch dinner plate. When your microwave is tight on space, it could not make any sense for large families.
Are microwaves safe to use?
If at one time you have ever been asked to not to stare into a cooking microwave, radiation leaking must have been the primary concern. You don't have to worry as all ovens make electromagnetic radiation called microwaves. These microwaves are less powerful and can't damage your body cells like other forms of harmful radiation. Its worst thing is that it can potentially burn you the same way it heats food. Always make sure you follow the instructions in the manufacturer's manual instructions, and you will be good to go.
Amazon and the Amazon logo are trademarks of Amazon.com, Inc, or its affiliates.